You've heard of party balloons, but you've never seen them quite like this! If you're in the market for LED balloons that add a colorful and fun touch to your party, then read on! In this article, we'll discuss the most popular types of LED balloons, as well as some tips on how to use them at your next celebration. Before you head out to buy your own, be sure to read this first!
All About LED Balloons
If you're planning a party or special event, you may want to consider lighting it up with some beautiful balloons. These days, there are tons of options when it comes to picking out just what you need. Some people have gotten into balloon decorating as a hobby, while others prefer to hire professionals who specialize in these kinds of balloon art pieces.
Even if you plan on decorating your own balloons, it can still be helpful to know all about them and how they work so that you can get exactly what you want—and save money in general. Today we'll be taking a look at LED balloons and everything that goes along with them: how they work, why they're popular today, and more!

Buy Now!
White LED Balloon
White LED balloons are perfect if you're holding a daytime event. This type of balloon is usually blown up with helium and is extremely lightweight, meaning it can float even in large numbers. Plus, they come in a wide variety of shapes and sizes to match any party theme. A great option if you want your guests to be able to see your decorations at night, too!
When choosing white LED balloons, keep in mind that some companies out there use bulbs instead of LEDs—meaning while they might look like white LED balloons at first glance, on closer inspection these aren't quite as bright as their genuine counterparts. If you plan to hold a nighttime event and want your decorations to be bright and colorful, it's worth spending a few extra dollars per balloon just to be sure you get authentic light-up balloons.

Buy Now!
Warm White LED Balloon
Warm white LED balloons are popular at weddings, holidays, and other special occasions because they can be used as lights or accent pieces. These types of balloons come in all shapes and sizes; some even look like lanterns!
They're filled with helium (so you don't have to worry about tying them) and include a variety of features like lighting modes, timers, memory settings, and more. Warm white led balloons are sure to create a festive mood at your next gathering! Check out our wide selection today. Our cheap balloons will also help save you money during your party.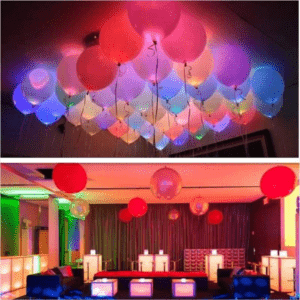 Buy Now!
Multicolor LED Balloon
Multicolor, or color-changing, balloons are arguably the most common type on today's market. Although these models may not offer as many colors as some other alternatives, they do often provide more than enough variety to create a spectacular display at your next celebration. However, multicolor units can vary significantly in quality—some will feature brighter colors and more impressive effects than others. To help you find high-quality options that won't require you to spend an arm and a leg, check out our guide to buying multicolor LED balloons.
Alternatively, you might also consider choosing either an explosion balloon or a moving lantern instead. Thousands of people watch Strictly Come Dancing every year so it was important I include some information about them along with good dance shoes for beginners who want to learn ballroom dancing.

Buy Now!
Sparkling LED Balloon
If you want to jazz up your party with beautiful colors, then get yourself some LED balloons. These balloons are available in various shapes and sizes, including hearts, stars and clovers. Use them to adorn tables, walls, or doorways at parties for added festive flair. They're especially great when paired with other decorations or used to build balloon arches or flower arrangements. Many sellers also offer custom printing so that you can add a personal touch to your décor. However, while LED balloons come in a variety of colors and forms, they do not produce sound—and some people may find their static appearance a bit dull compared to regular balloons. A good way around that is by opting for pearl or shimmering LED latex models that resemble ball-shaped sequins against a background filled with fireworks!