You may think that having a backyard wedding would be less exciting than getting married in a large ballroom filled with friends and family, but that's not always the case! There are many ways to make your backyard wedding feel as special as any other type of wedding reception you could have. After all, what's the point of getting married if you don't celebrate it? Here are three ways to get the most out of your backyard wedding.
Do it Yourself Wedding Arch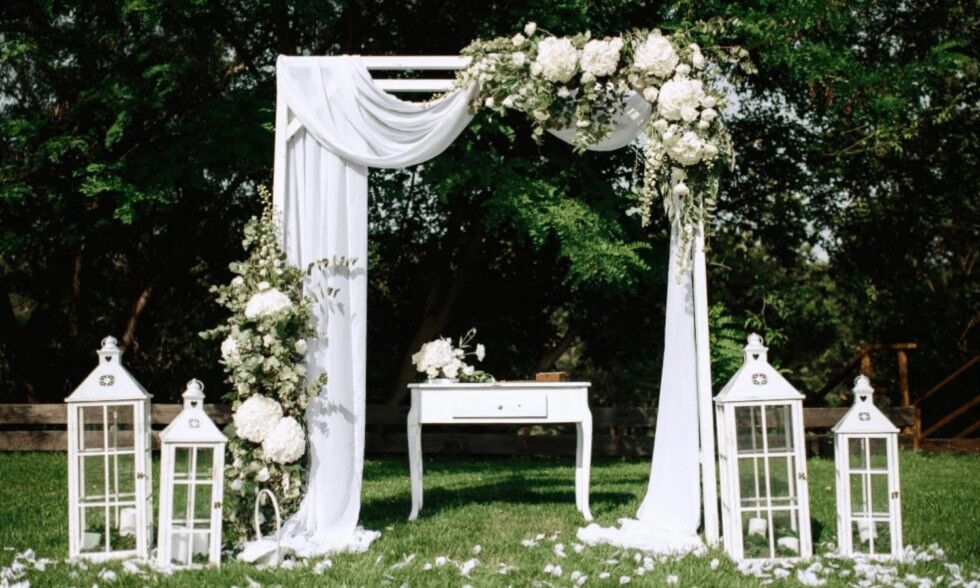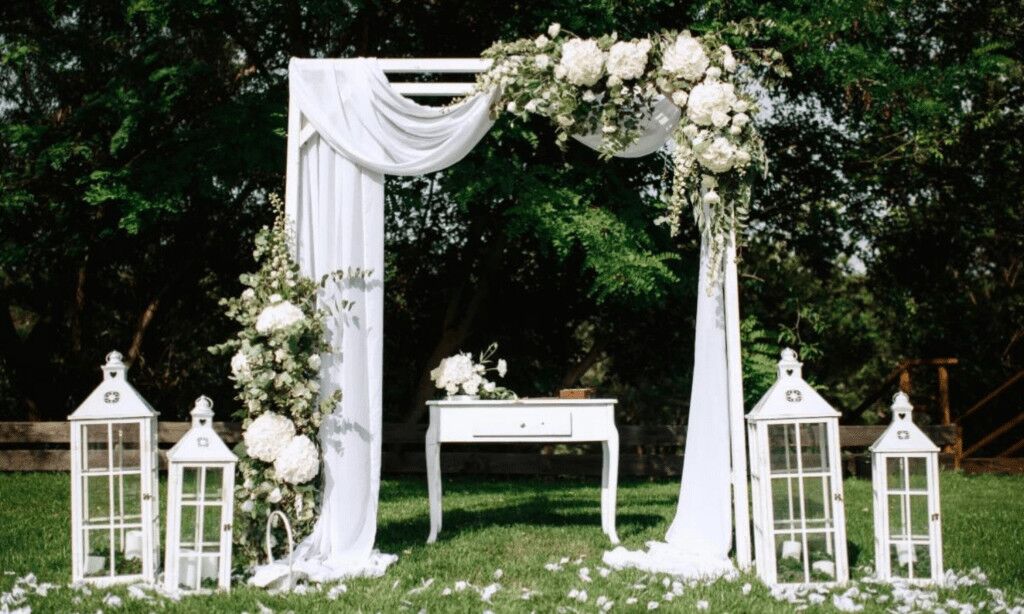 If you have time to spare and some crafting skills, an archway makes a great backdrop. You can design one yourself, or purchase one that's already been made. All you need to do is set it up in your backyard and decorate it with flowers and lights. And since it will be used once (and only once), there's no need to worry about it being too big—you can get creative! Check out DIY wedding arches on Pinterest for inspiration. Your guests will love how personal it feels and you'll love that your wedding cost less than $100! If you want even more ideas, check out our guide on how to plan a cheap wedding .
Personal Wood Wedding Signs
Personalized wooden signs are a great way to make your wedding even more personal, and they're totally customizable! Depending on what kind of look you want, there are plenty of options. If you want to incorporate rustic elements into your wedding day décor, then you can order wooden signs that look weathered with tattered edges; if it's clean lines and more traditional design you're after, there are also plenty of styles available in that range. Take pictures at every stage of your process to be able to replicate any ideas from friends' weddings as well!
Fairy lights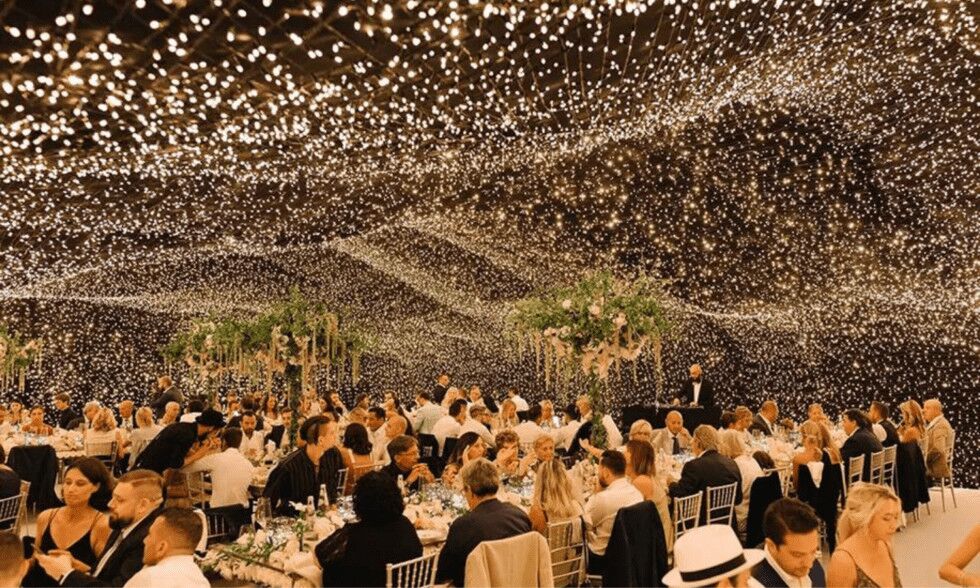 Fairy lights are one of our favorite ways to dress up an outdoor space and create an intimate, romantic vibe. These lights come in lots of different shapes, sizes, and colors so you can pick ones that fit with your wedding theme. They're also really easy to hang up! If you're wondering how much fairy lights cost, they tend to range between $10-$15 per strand; one light strand can create quite a soft and beautiful glow. If fairy lights aren't quite what you want, try some mini-bulbs instead! They're cheaper per bulb (typically about $1) and give off more of a vintage look. So cute! Now all you need is some food.
Set a Long Banquet-Style Table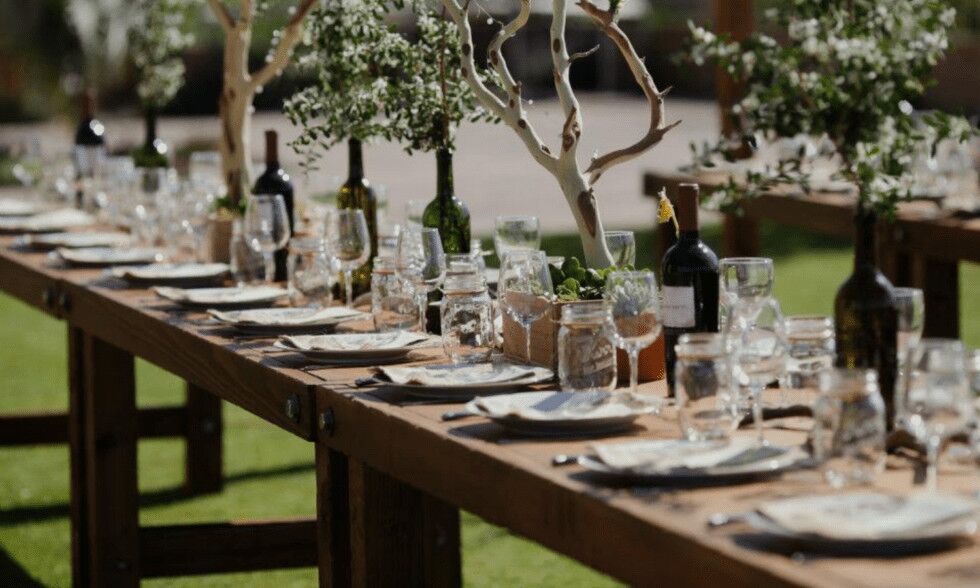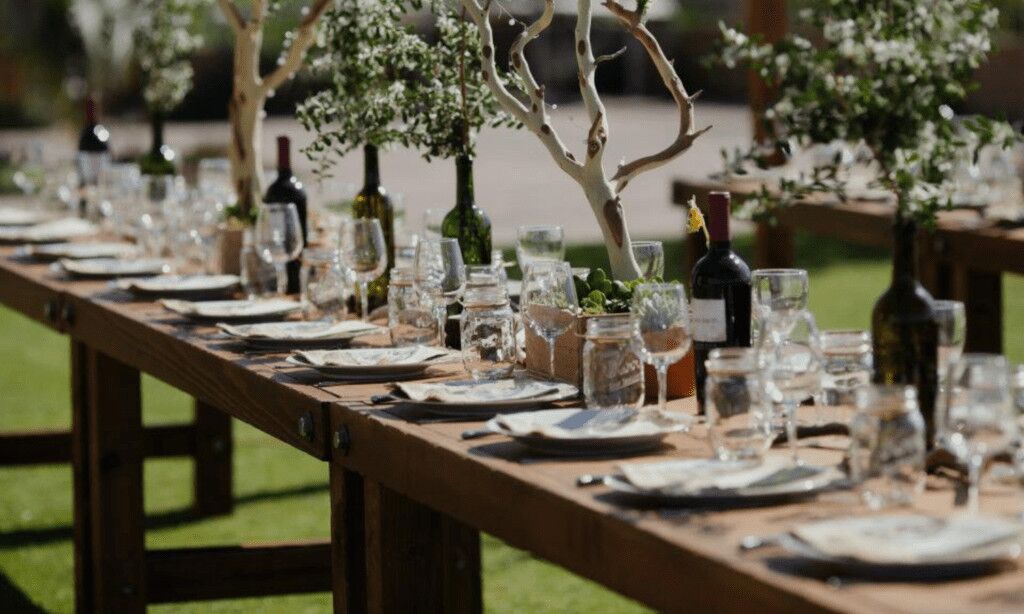 While traditional wedding receptions have become more common, some couples are still planning more formal banquet style receptions. While these types of weddings do require some serious prep work on your part, you'll definitely be able to show off your style by setting up a long banquet-style table with centerpieces, place cards and other decor that represent you as a couple. You can also try setting up separate areas around your house or property (depending on how much space you have) where guests can relax and mingle while they wait for dinner to be served. If you aren't totally into doing it all yourself, consider renting out an event hall or working with caterers so that there's someone else keeping things running smoothly during dinner and afterwards.
Creative Photo Display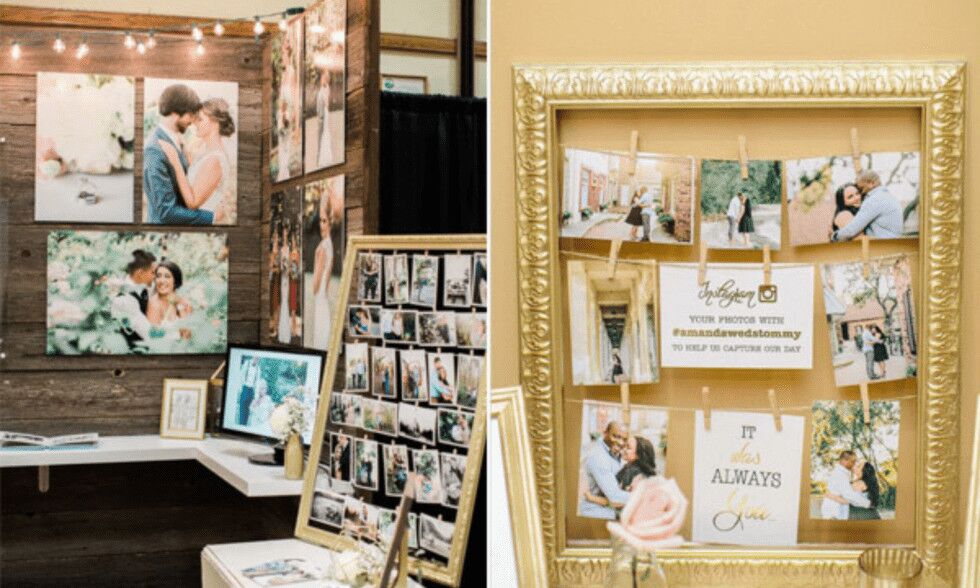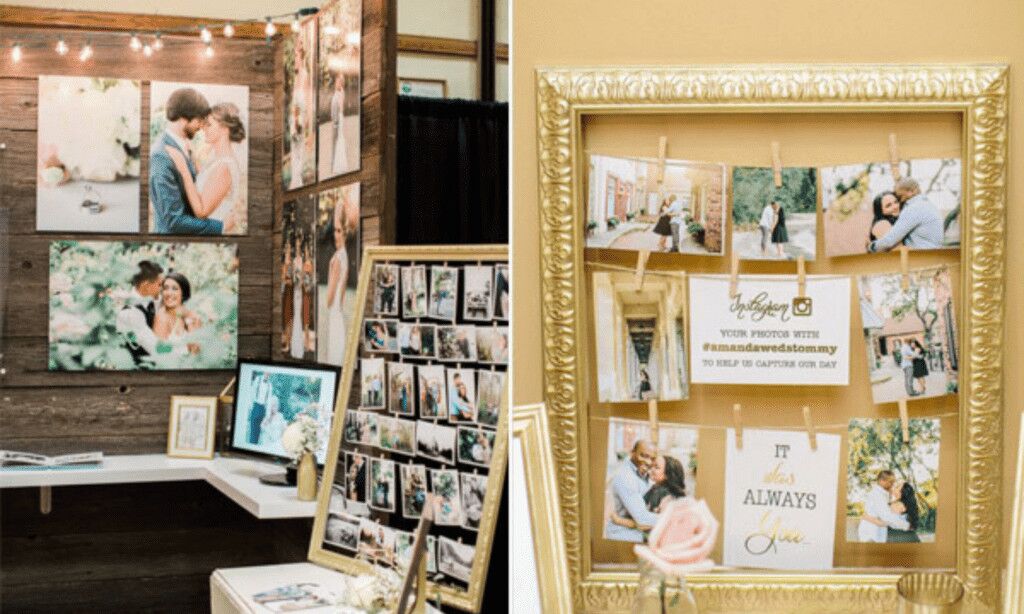 Photo displays are wonderful ways to commemorate your big day, and they don't always need to be complicated or expensive. A simply white-painted wooden frame works just as well as one made from silk flowers and ribbon, so you can focus on capturing precious moments rather than hunting down pretty frames. To tie everything together, try including photos of flowers from your bouquet or honeymoon shots in a small photo album that guests can flip through at their leisure. To make things easy for everyone involved, go digital and have your photographer email around prints ahead of time. These simple ideas will help you make memories last long after your wedding day has passed.
Self-Serve Wedding Drinks & Food Table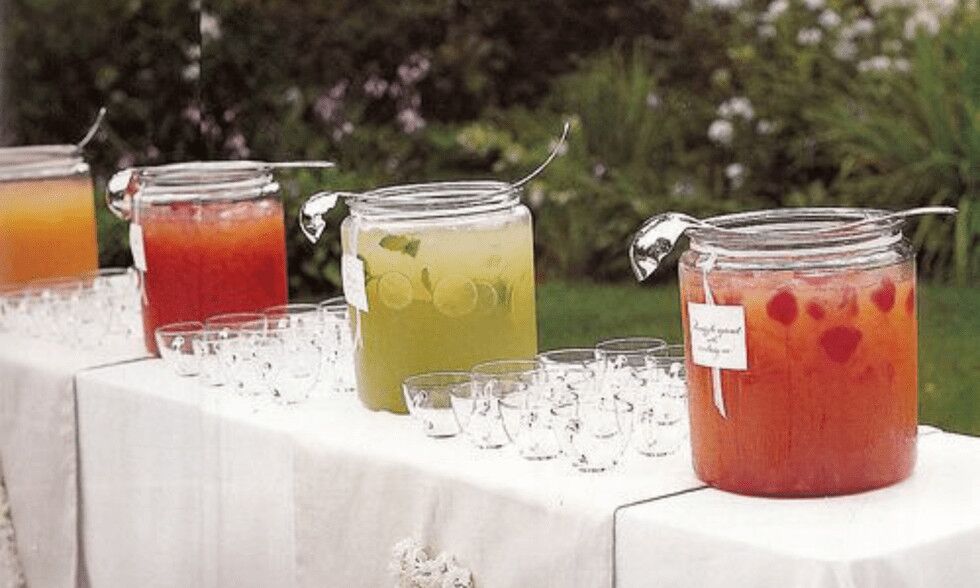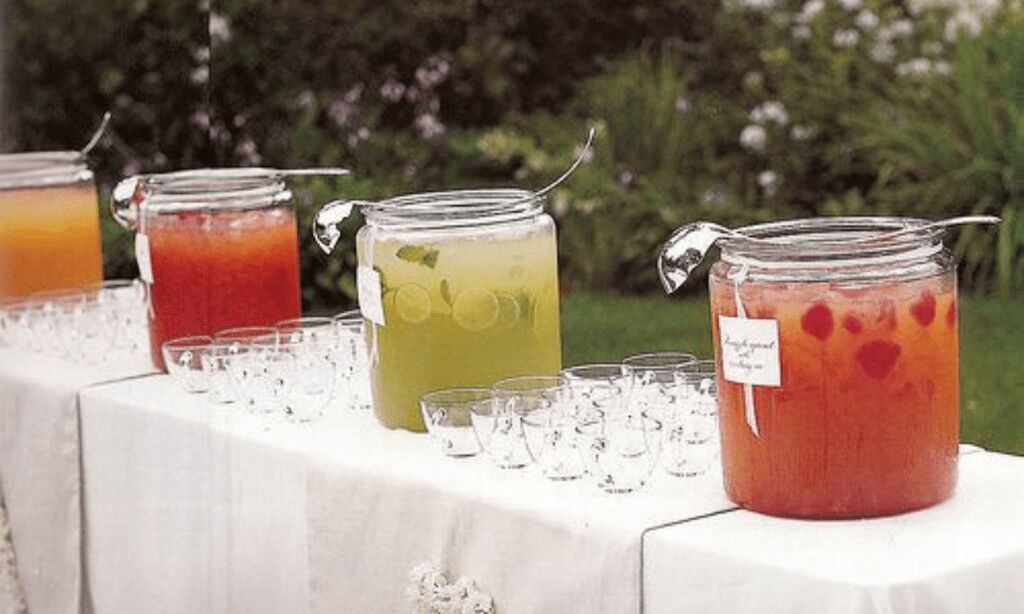 To save time and money, opt for self-serve wedding drinks. Think about having a table where guests can help themselves to wine, beer and possibly non-alcoholic beverages. Many people are intimidated by entertaining at home, but it doesn't have to be hard if you plan well in advance. You'll need plenty of food on hand—you don't want your guests to be grazing all night—and you can easily set up a buffet or other food stations that allow guests to serve themselves. That way you can still provide some service while allowing people to enjoy your party.