There was a time when massive weddings were expected of brides and grooms. However, those days are long gone, and couples are beginning to embrace smaller and more intimate weddings once again. Therefore, do not be afraid to only invite twenty or thirty people to your wedding. There is nothing wrong with only inviting those who are near and dear to you. It will make your wedding day even more special, because you won't feel rushed trying to greet two hundred plus guests. Imagine feeling well rested at the end of the night, because you haven't been running around like a crazy person all day and all night!
26 Small Wedding Ideas for an Intimate Amazing Event
1. Create Your Guest List Carefully
You may want to have a small wedding, but once you begin to create your guest list, it is going to be difficult to keep things small. You are going to say, "Well, I am inviting so-and-so, therefore, I must invite…". See where we are going with this? We recommend starting with close family members and those close friends you speak to regularly.
2. Send Out Handwritten Invitations
Those invitations you can create online are fabulous. However, a handwritten invitation shows that you truly cherish the people you are inviting for your big day. You can easily write the invitations out yourself or you can hire someone who specializes in calligraphy to do them for you.
3. Consider Wedding at a Family Home
If you, or a family member, has a gorgeous home, you must consider using it for your wedding day. Embrace the long winding staircase, the backyard filled with flowers, and even a gazebo. Since your guest list will be so small, no one will feel cramped if you choose to have your wedding at a family home.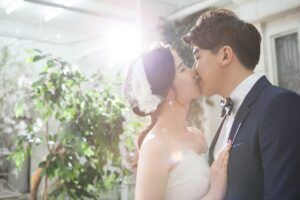 4. Create Welcome Boxes
Instead of creating the usual, "thank you for attending our wedding" gift, also known as wedding favors, we recommend creating welcome boxes for your guests. These boxes can hold your favorite local items and will add a personalized touch to those who are celebrating your special day with you. You can hand these welcome boxes out when your guests arrive, so they can use them right away if they wish. These are especially handy for those out of town guests.
5. Choose the Right Activities
Every friend and family member has an activity that they love to do, so choose a few of them for your intimate wedding. You can still have the traditional dances and throwing of the bouquet. But think of all the laughter you will all have if you offer a few unique wedding day activities!
6. Choose a Live Band over a DJ
DJ's can be a lot of fun, but a live band will add a little more intimacy to your wedding day celebrations. Many live bands can play the music that you love, you just need to find the band that will suit your tastes the best. We recommend choosing a band with only a few members, because larger bands can take up a lot of space and that reduces the intimacy of your wedding.
7. Choose the Perfect Photographer
Most wedding photographers are fantastic, but you may want to hire one that specializes in smaller weddings. Those photographers have an eye that will allow them to capture all the smaller, intimate moments between the couple and even guests. Imagine looking at pictures of guests laughing, crying, and even toasting the bride and groom, instead of your basic wedding day pictures.
8. Create a Romantic Ambiance
Intimate weddings are always in smaller spaces, which makes it easier to create a romantic ambiance. When you are planning the décor for your wedding, consider the lighting, fabric being used, and even the flowers. Hanging strings of lights vertically can really add visual appeal to a space, while making it sparkle.
9. Personalize Your Place Cards
Even though this is an intimate wedding, you will still want to have place cards. Those place cards will allow everyone to know where they are sitting. We recommend personalizing each one with the person's name and even a handwritten quote.
10. Create Handwritten Menus
Everyone always wants to know what is on the menu at weddings. If you did not ask guests to sign up for one of two or three options, it is best to provide them with a handwritten menu. This menu can be placed on each table to tell your guests what they will be eating. If you want to take this idea a step further, you can also write out the schedule of events for your reception. This way guests will know what to expect when, so they don't miss out on anything if they happen to need to use the restroom.
11. Consider a Smaller Wedding Cake
Since you will have fewer guests at your intimate wedding, you won't need a massive wedding cake. Smaller cake rounds can be tiered, so you have the visually appealing wedding cake look on a smaller scale. Less leftovers for you and yet still enough for everyone in attendance.
12. Plan Your Wedding Reception for Brunch
There are no rules that state you must get married on a Friday night, Saturday afternoon, or Saturday evening. There is nothing wrong with a Saturday or Sunday morning wedding followed by a brunch reception. Your guests may be thrilled with this option, because brunch means lots of delicious foods. Plus, they will have the evening to chill out instead of crashing immediately after your wedding.
13. Consider Getting Married in a Small Chapel
If you happen to have a small chapel near your home, we recommend having your wedding ceremony there. Smaller chapels won't hold a ton of people, but they are perfect for intimate weddings. Chapels also aren't considered to be denominational, so you won't need to have a religious ceremony when you use them.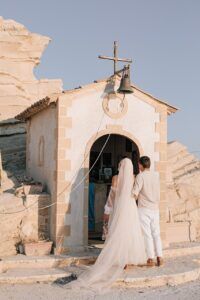 14. Consider a Destination Wedding
Destination weddings can be a lot of fun, but they can be expensive if you are considering having a lot of people at your wedding. If you want an intimate wedding, you can save a lot of money by having a destination wedding. There are hundreds of destinations within the US and Canada, as well over in Europe and down in the Caribbean. The best part is you can use your destination wedding as an excuse to keep your guest list down to the bare minimum.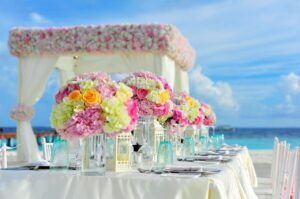 15. Consider a Unique Wedding Venue
Have you ever wanted to get married on a stretch of sand on the beach? Or the ninth hole of the local golf club? How about in the gazebo at the summit of a mountain? All these are fabulous wedding venues that are quite unique, and they are completely possible if you are planning a small, intimate wedding. If you want to have a unique venue for your wedding day, be as creative as you want. Just make sure you keep your guest list small enough to allow you to have the wedding venue of your dreams!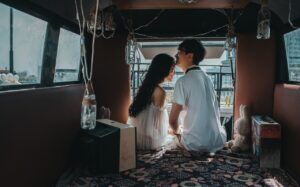 16. Choose a Low-Key Wedding
Just because you want a low-key wedding, doesn't mean you have to go without the elegance of a wedding reception. Finger foods can be prepared to seem elegant, while being easy to eat and tasty at the same time. Barbecues can also be fantastic for wedding days and they can be intimate if done properly.
17. Skip the Wedding Party
The day of your wedding is all about you, so skip the wedding party and refocus the guests' attention. In all seriousness, your wedding will be more intimate if you have fewer people standing up at the altar with you.
18. Splurge on the Items that Matter
You will save a ton of money if you plan a small, intimate wedding and wedding reception. That means you can splurge on the items that matter the most for you. This could include the flowers used for place settings at the tables, an elaborate cake, or a photobooth for everyone to have their picture taken. You could even splurge and hire someone to video the entire day and then edit it into a video you can watch on your anniversary.
19. Create a Few Lounge Areas
Your guests will feel right at home if you create multiple lounge areas for them to relax in. You can even take advantage of these areas when you are talking to individual guests. Since you won't be in a rush to greet everyone for only a few seconds, you will have time to sit down and have in-depth conversations with everyone you invited to your wedding.
20. Create Custom Items
We discussed welcome boxes and menus above, but how about customized cocktail napkins and dinner napkins? Personalized candle holders and other items are also a hit.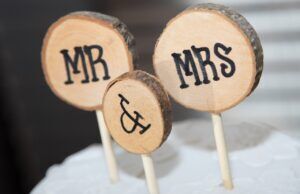 21. Choose Family Heirlooms for Your Wedding Day
Everyone seems to have that one family heirloom that will be perfect for their wedding day. It could be the family bible, vintage china, or even an element your parents used in their own wedding ceremony. Maybe you can even wear your mother's, or grandmother's, wedding dress.
22. Create Hanging Floral Arrangements
Do you hate large centerpieces on tables, especially at intimate weddings? We have the perfect solution if you do! We love hanging floral arrangements from above, so you can easily talk to the people across the table from you. You can still choose your favorite flowers and they often look better under the soft glow of hanging lights at night.
23. Create Elegant Place Settings
As you are determining what dishes you will be using, we urge you to play around with the place settings. Stacking dishes creates an elegant look, but you will want to make sure each of your guests have plenty of room to reach everything they need to on the table.
24. Choose Your Tables Wisely
Depending on how many people are invited to your intimate wedding, you should be able to choose from different types of tables. Round tables are popular, but it makes it difficult to talk to many other people. Long tables are excellent for spreading people out, but again you are only talking to a select few people. We sometimes recommend placing tables in a U-shape, so you can see everyone all at once. This is the perfect solution for the bride and groom, because they can see what is happening whenever they are sitting down.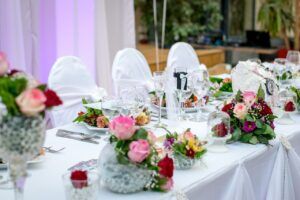 25. Hire a Day-Of Wedding Coordinator
When you take the time to hire a day-of wedding coordinator, you are making sure that every single minute of your day goes as planned. Your wedding coordinator will take over all the tasks, so you never need to stress over anything that is going wrong at the last minute. They will make sure there is water available on those hot days and that dinner is served on time. They will even keep the band on track, so you don't run out of time for the traditional dances you want to do.
26. Create a Wedding Weekend
There is no rule that states you must have your wedding within a certain timeframe. You can easily plan a series of events to keep your guests busy all weekend long. The fun can begin with a tour of the area, followed by the rehearsal dinner, a day at the spa, the actual ceremony and reception, and a day of unwinding at a local beach or amusement park. Of course, there are thousands of other ideas you can implement into your wedding weekend. Use your imagination, consider what your guests like to do, and then start planning.
These are twenty-six small ideas that will turn your wedding day into an intimate event. You do not need to utilize all these ideas, but even a few will turn your small wedding into an intimate event without a lot of extra work. We recommend starting with the elements mentioned above that you love and then seeing what other ideas will enhance parts of your wedding day even more.